At Shertom Kennels we're "dog crazy" and "crazy about dogs."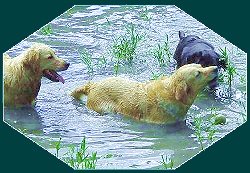 Located on 13 acres just north of Leander, with plenty of big trees, a creek and pond and large grassy fields just made for running you can offer your dog a vacation filled with fun and country serenity.



"NEWS"

Our kennel phone number is now a mobile number. That means you can now text our number and send pictures. We can also send pictures to you now whenever we take that great candid shot of your dog while staying here at our kennel.

We are also posting pictures of the dogs that are staying here up on boards in the office so when you come in you may see your dog in action in the play yard, having a great time on a nature walk, swimming or being cuddled and loved by one of our employees.


Our Sunday open hours are 6:00 pm to 7:00 pm. from after the Spring time change until Fall. When the Fall time change occurs in November, we will then be open from 5:00 pm to 7:00 pm.

The Kennel will be closed for pick ups and drop offs on the following dates:
Easter, Memorial Day, Labor Day,Thanksgiving Day and Friday after Thanksgiving.
Christmas: December 24th we close at Noon.
December 25th closed and open on December 26th.
New Year's: December 31st we close at Noon and then closed on January 1


Effective immediately, Shertom Kennels no longer requires the Bordetella vaccine but is still highly recommended to vaccinate your dog.

NOTE: When getting the Bordetella for your dog, please vaccinate your pet at least 2 weeks or more prior to your dog arriving at the kennel unless your vet uses a killed Bordetella virus. If the killed virus is used, the waiting period would be 5 days or 72 hours to build up titer levels before bringing your dog into the kennel. Please bring or send proof of vaccination.

The live virus can shed out to the other dogs in the kennel and your dog and the kennel dogs can be susceptible to kennel cough.




Shertom Kennels - Check Us Out On Facebook!